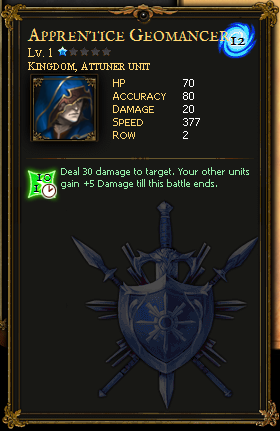 Card/Unit Stats
Edit
Rarity: Common
Faction: Avalon
Unit Type: Attuner
Casting Cost:  12 Mana

Off-Faction Casting cost: 16

HP: 70
Accuracy: 80
Damage: 20
Speed: 377
Row: 2
Special Attack: Smite

Recharge time: 1 round
Action point Cost: 10
Effect: Deal 30 damage to target. Your other units gain +5 damage until this battle ends.
Even if Apprentice Geomancer gets killed, the +5 damage gained from their special will stay with your remaining units until the battle concludes.
Apprentice Geomancer's special attack is a very reasonable cost, and deals more damage than their un-augmented basic attack.