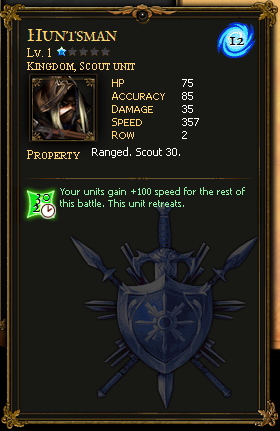 Card/Unit Stats
Edit
Rarity: Common
Faction: Avalon
Unit Type: Scout
Casting Cost:  12 Mana

Off-Faction Casting cost: 16

HP: 75
Accuracy: 85
Damage: 35
Speed: 357
Row: 2
Properties: Ranged. Scout 30.
Special: Battlefield Knowledge

Recharge time: 2 rounds
Action point Cost: 30
Effect: Your units gain +100 speed for the rest of this battle. This unit retreats.
In a final battle, as it is not possible to retreat from the final battle, Huntsman's ability may be used more than once per battle.