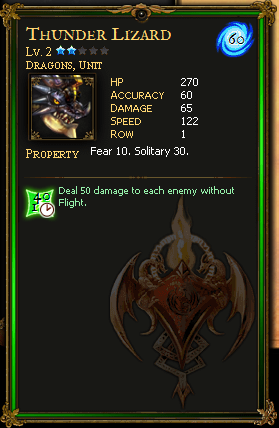 Card/Unit Stats
Edit
Rarity: Uncommon
Faction: Flameborn
Unit Type: unit
Casting Cost: 60

Off-Faction Casting cost: 73

HP: 270
Accuracy: 60
Damage: 65
Speed: 122
Row: 1
Properties: Fear 10. Solitary 30.
Special Attack: Punish Groundlings

Recharge time:  1 round
Action point Cost: 40
Effect: Deal 50 damage to each enemy unit without flight.
Although Thunder Lizard has a considerable solitary factor, he is incredibly slow, and not useful against hordes of enemies all alone, but against one or two enemies he can be quite the force to be reckoned with.